Live from Napa Valley: Yountville Live 2019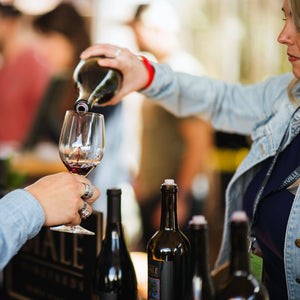 Yountville, California is a tiny, unassuming town hailed as the culinary capital of Napa Valley. Thomas Keller put the quaint hamlet on the map with his Michelin starred restaurant French Laundry, and fellow Michelin earners such as Bouchon Bakery, Bistro Jeanty, and  Bottega soon followed.

As a testament to this rich culinary history, every year the town welcomes foodies, wine lovers and music fans from across the globe for the Yountville Live weekend festival. Both VIP pass holders and one-day "Taste of Yountville" ticket holders enjoy an array of cooking demos from world renowned and celebrity chefs, intimate dinners, wine tastings, and live music. This year, there was a newcomer amongst the booths claiming real estate underneath Yountville Live's dreamy white tents: New West KnifeWorks, aka the only booth in sight with a tomahawk target.

Store Manager, Dascia Skadal, and COO, Anthony Campolattaro, hold down the New West KnifeWorks booth behind a tomahawk target and an array of custom knives.



Yountville Live attendees enjoy cooking demos plus food and wine pairings.

While the absolute need for a tomahawk is debatable (they are mountain man toys, after all) every good chef certainly needs a good knife. In addition to hosting a booth at Yountville Live, New West Knifeworks gifted participating chefs with brand new knives to use in the event's cooking demos and back home at their restaurants. Chris Cosentino, winner of Top Chef Masters, Timothy Hollingsworth, award winning chef and restaurateur, and Joy Bauer from The Today Show all took home customized, laser engraved Chris Kidder chef's knives (wannabe celebrity chefs, buy yours here.)

A Chris Kidder chef's knife takes the stage at Yountville Live.



Perfectly sliced steak makes the Yountville Live audience's mouths water!

The New West KnifeWorks' California store, which lies fifteen minutes from Yountville in the equally quaint St. Helena, is no stranger to the wine and culinary scene that is endemic to Napa Valley.  Store manager Dascia Skadal, a Napa local and wine industry veteran, explains, "The St. Helena store partners with the true history of the valley through Charles Krug, and also with smaller projects like The Crane Assembly. Recently, the nearby American Culinary Institute has even begun to use us as a resource:  students dropped by to practice sharpening knives before a knife skills final, which was pretty cool."

So, to complete a true immersion into the iconic culinary scene that is Napa Valley, round out your weekend of Mondavi wine tastings and a meal at French Laundry with a visit to the knife shop: you might leave with a tomahawk, too.


The clean aesthetic of the St. Helena store borrows from its art gallery neighbors.



The Mountain Man Toyshop section of the store, with its tomahawk target front and center, transports shoppers back to the Old West.