Hatchets Go Hollywood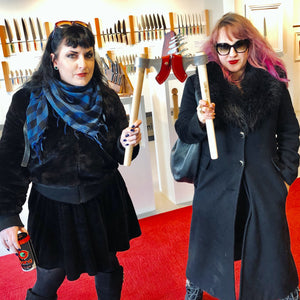 Film festival goers strike a pose at New West KnifeWorks Park City store.
Park City, a historic mining town turned famously powder-filled ski resort, utterly transforms for the Sundance Film Festival each year in late January. The quaint, mountainside Main Street fills to capacity with celebrities, entourages, media, and fans armed with selfie sticks, and the result can be total mayhem. The New West KnifeWorks Park City location threw on a new coat of paint and opened its doors for business a mere three weeks before the madness commenced, and within minutes of the first kick off party, the shop was continuously filled with thirty to fifty people at a time. COO Anthony Campolattaro tried his best to play it cool while stars like Zach Galifianakis, Adam Driver, and Jason Momoa inspected New West's wares.
"Jason Momoa is definitely a larger than life figure," Campolattaro recalls. "He came in and looked at everything we had in about three minutes. I was shocked at how fast he was pulling knives off of the wall and out of the case, and I was like, wow, Aquaman might die right here at New West KnifeWorks! But, seriously… he wanted to buy 23 axes for his entourage to go to the next party, and his manager was like no, we can't walk around Main Street with sharp objects."
New West's tiniest fan... remember kids, do not run with tomahawks.
Aquaman, did, however, sign up for the New West newsletter, and you can bet that he's staying sharp out there. While certainly thrilling and even overwhelming at times, Sundance is hardly Park City's highlight: this little ski town has a lot more than celebrity sightings to offer. As soon as founder Corey Milligan decided that he wanted to expand beyond Jackson Hole, Park City made its way to the top of his list. Besides being a favorite vacation destination of his clientele, Park City is also where Milligan and his staff like to recreate. "Park City has world class skiing, world class mountain biking, and world class food, which is kind of our thing," Campolattaro says.
The Park City Store stayed busy all week and won over hearts from all over the country.
At the end of the day, New West makes knives because they are a tool for creating and enjoying great meals, so opening shops in culinary destinations like Napa (home of their third retail location) and Park City makes a lot of sense. The après scene in Park City is more evocative of a mountain hamlet in the Alps than of an American ski resort– instead of dining on a sad bowl of chili or a rubbery hot dog in a crowded cafeteria, you can drink fine wine and enjoy bacon wrapped dates or hamachi crudo slopeside at locations like The St. Regis and The Montage.
"To be a culinary destination, people must travel there for the food itself," Campolattaro explains. It's not just an add on to the skiing and mountain biking… Park City is a location where you can get some of the country's best cuisine. We have some cool opportunities here to collaborate with really good chefs and restaurants."   
We can't wait to see what the first year of business holds for the Park City Store– selling knives to both Aquaman and the St. Regis sounds like an excellent start.
The Park City store's gallery side, aka the front side of the mullet: business classy.
Welcome to the party side. The MTN MAN Toy Shop side of the Park City store features tomahawks, hatchets, and cool stuff you didn't know you needed.