Pumpkin Pie - From Scratch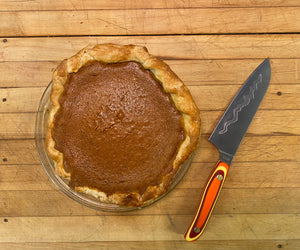 Restaurant owner Lisa Hanley and her husband Christian took over Forage Bistro in Driggs Idaho in 2015. She said she "felt that our desserts needed to be elevated to go with the food Christian was creating, He didn't have the time to focus on desserts, so I stepped in. I have some pastry training from culinary school, and grew up baking, but I never applied it professionally until Forage." And the results keep the locals coming back over and over again.  


Lisa is know for being experimental and making desserts that are rich and not too sweet. She says "my style is to keep our desserts approachable, but have fun with them. I get inspired by new flavor combinations, changing up a crust in a pie, or trying to bake the best version of a classic dessert. I really enjoy creating desserts, having our guests finish their meal and leave with one more bite of goodness." Forage is a small dining room, so reservations are recommended; and when folks call to schedule their reservation they often ask- what's on the dessert menu tonight?


Ingredients

2 large eggs
1 large egg yolk
1/2 cup packed dark brown sugar
1/3 cup white sugar
1/2 teaspoon salt
2 teaspoons cinnamon
1 teaspoon ground ginger
1/4 teaspoon ground nutmeg
1/4 teaspoon ground cloves
1/8 teaspoon cardamom
1/2 teaspoon finely grated lemon zest
2 cups pumpkin purée from a sugar pumpkin (see Recipe Note) OR 1 (15-ounce can) pumpkin purée (can also use puréed cooked butternut squash)
1 1/2 cups heavy cream or 1 (12-ounce) can evaporated milk
1 homemade pie crust

Make the filling:  Preheat your oven to 425°F.
1. Beat the eggs in a large bowl. Mix in the brown sugar, white sugar, salt, spices — cinnamon, ground ginger, nutmeg, ground cloves, cardamom, and lemon zest.
2. Mix in the pumpkin purée. Stir in the cream. Beat together until everything is well mixed.
3. Fill the pie shell and bake: 
• Pour the filling into an uncooked chilled or frozen pie shell.
• Bake at a high temperature of 425°F for 15 minutes.
• Then after 15 minutes, lower the temperature to 350°F. Bake for 45 to 55 minutes more.
The pie is done when a knife tip inserted in the center comes out wet but relatively clean. The center should be just barely jiggly.

(About half-way through the baking, you may want to put foil around the edges or use a pie protector to keep the crust from getting too browned.)

Note that the pumpkin pie will come out of the oven all puffed up (from the leavening of the eggs), and will deflate as it cools.

Note if using sugar pumpkins. Preheat oven to 350°. Cut in half, scrape out seeds, and discard. Oil sheet pan and or use parchment paper, place cut side down on pan. Roast in oven for about an hour to hour and a half.

The pumpkin will be done when you can poke it with a fork and it goes through. Let pumpkin cool and scrape out insides into a bowl.