Crafting Custom Knives with Kevin Casey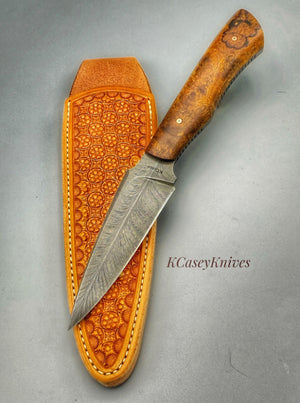 Mountain Man Toy Shop carries a variety of outdoor and custom knives. We curate pieces from custom knife makers across the country. Custom makers bring artistry to knives that is truly stunning. One such maker, Kevin Casey, has an incredible level of detail in all of his work. A resident of Lander, Wyoming, Kevin has been making knives since 1995. He is a mentor to our own custom knife maker, Jack Rellstab.
We interviewed Kevin to learn more about him. 
Where do you live? What kind of shop set up do you have for knife making? 
I have been living in Lander Wyoming for 5 years.  Previously I lived in New Hampshire and Michigan.  My wife and I (we met in Lander in 1977 at NOLS) followed my son and his wife here after he got out of the Army.  My son discovered Lander because he's a rock climber.  
I actually have two shops.  The "hot shop" is in a separate barn where I forge.  My second shop is in the basement of our house and is the "finish shop".  Definitely my man cave.   
How did you get started in knife making?
I started making knives in 1995.  Before knives I did some ornamental blacksmithing, log building and cabinet making.  I discovered Damascus steel making at a ABANA (Artist Blacksmiths Association of America's) conference in 1995. 
What are some of your favorite handle scales to work with?
My favorite materials for handles are Mammoth Ivory bark, fossilized Walrus Tusk and Sambar stag antler.  Lately I've discovered another nice natural material fossilized coral.  
What is your process before you start working on a knife? Do you sketch ideas or roughly plan things out in advance?
I do not usually make a drawing.  I let my intuition with the material I'm using define and create the design of a knife.  Feather Damascus patterned steel is always a bit of a wild card in the sense it really defines what the knife will look like.   
Do you make other things besides knives?
As mentioned previously I use to do ornamental ironwork , and worked with wood.  But I've found I'm better to stay focused on just a few things namely making knives.  At one point I was very seriously considering putting knife making aside and pursuing bronze sculpture.  But in the end knives and creating pattern welded steel (I.e. Damascus Steel) won out and I stuck with that.  
What do you like most about knife making?
Forge work in the steel making is an addiction.  It's so creative and gives one a sense a freedom of expression in an artistic sense.  And the the finished product of a knife is tremendously gratifying.  
Any funny little anecdote you want to share about knife making? 
Years ago when I lived in another State and had first moved into a new neighborhood some neighbors were very uptight when they heard I made knifes.  The zoning board in the town inquired about what I was doing and implied I was "light industrial" which was against code.  I met with them and the neighbors and introduced myself as an "artist" working with metal as the medium.  Well they (and the neighbors) loved that and welcomed me with open arms.  I was all set.  It's all about perception. 
No real funny anecdotes but I can say I've made such great friends for life through knife making.  I wouldn't change that for all the money in the world.   
What do you do for inspiration when you feel stuck in a creative rut?
Spend time with my horses and dogs.  They always keep me grounded.  
What's the strangest custom knife request you've ever gotten?
While not the strangest I was once asked to make knives for a reunion of Air Force veterans from WW2.  Unfortunately there was not enough time for me to make the knives before the reunion.  Broke my heart to tell them I couldn't do it.  Was such an honor to be asked.  
If you didn't become a knife maker, what do you think you'd be doing?
Bronze sculpture.  
Our stores carry Kevin Casey knives as available. A selection of Kevin's work below.