Camp Cooking: Cast Iron Shakshuka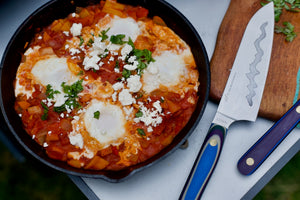 Words and images by Lily Krass
When the first tomatoes start popping up in my farm share in July, I savor each one, rationing out the fresh, juicy slices to maximize their flavor on toast or fresh salads. But by August, tomatoes are so abundant that I'm more inclined to start cooking them down, throwing them into sauces and stir frys or preserving batches for the winter. 

Shakshuka is one of my favorite meals to enjoy a big haul of ripe tomatoes, and the warm, sizzling dish always hits the spot on a cool morning around camp or an evening around the fire.

(Teton Edge Santoku, with chopped yellow bell pepper.)
What is shakshuka you may ask? Shakshuka is a traditional middle eastern dish of eggs poached in simmering tomato sauce with peppers, onions, and spices. I first fell in love with this warm, tomatoey sauce on a trip to Israel a few years ago, and when I got home it became an integral part of my weekly rotation. The flavors are comforting and familiar and prep time is quick, yet the dish is unique enough for it to always feel like a treat. In Tunisian Arabic, it actually means "mixture" or "shaken" so there are really no hard and fast rules for what you can and can't add to it. It's traditionally vegetarian, but some variations are made with ground lamb or spicy sausages, as well as potatoes if you're looking for something a little more hearty. I've even added a can of chickpeas in place of the eggs for some vegan friends. It makes a great breakfast, brunch, or dinner; in my opinion, there's never a bad time of day to eat shakshuka. 
(Teton Edge Santoku with peacock G-Fusion handle)
If I'm headed out for a camping trip and can only bring one knife, the Teton Edge Santoku is my go-to. I find the shape to be slightly easier to manage with a smaller cutting board (which I usually have when camping) than a chef knife, and the wide blade makes it easy to scoop up a big pile of diced onions and peppers and slide them onto a sizzling skillet. Plus, etched with the silhouette of our home range, it always feels festive to have the Santoku in hand when spending a night under the jagged peaks in my backyard. 

While summers usually deliver the best batches of shakshuka, one of the best parts of this dish is that it's easy to make with canned tomatoes, so there's not one month out of the year where shakshuka is off the table (literally). 

It may look like an elaborate meal to serve while camping, but don't let the Insta-worthy presentation fool you; its one-pot nature and minimal prep work actually make it one of the quickest and simplest camp meals I've made. You don't need anything fancy for this meal, just a camp stove and a cast iron skillet, and you can even pre chop everything at home to grab out of the cooler when you're ready to get cooking. 
Ingredients:
Makes 2-3 servings
Ingredients:
1 Tbsp. olive oil
1 clove garlic, minced
1/2 medium white onion, diced
1 bell pepper, diced
1 carrot, diced
3 Tbsp. tomato paste
6 large tomatoes, chopped (or one 14.5 oz. can of diced tomatoes)
1 tsp. cumin
1/2 tsp. paprika
1 bay leaf
1/2 tsp. black pepper
4 eggs
1/2 tsp. salt, plus more to taste
For serving:
Sourdough bread
Feta cheese
Parsley, chopped
Directions:
1. Heat a large cast-iron skillet to medium heat with olive oil. Add garlic, onions, and pepper and cook until onions are translucent, about 8-10 minutes.

2. Mix in tomato paste, tomatoes, and spices.

3. Cook for 10-15 more minutes, or until everything thickens.

4. Crack eggs over mixture and cover the pan until eggs are cooked to your preference.

5. Sprinkle with parsley and feta and serve with toasted sourdough bread