BLADE SHOW 2022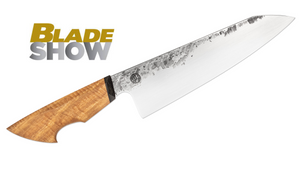 Celebrating it's 41st year, Blade Show 2022 - the pinnacle of knife-aficionado gatherings - was filled with high energy and a sea of beautiful works from expert bladesmiths. We sent a heroic contingent of knife experts to steamy Atlanta to seek out the best of the best: our eagle-eye lead buyer, one obsessive custom-Damascus bladesmith, the founder of NWKW, and our director of retail. They brought back more than 50, one-of-a-kind knives of unparalleled beauty and elite performance.



(A makers table top display)
You can see the knives we procured from BLADE 2022, and more custom pieces here.
(Lead buyer Dan Fiddler handles a sword)

Our lead buyer reported, "Blade Show was back to its true form this year, with all of the international vendors and custom makers making the trip for the first time since 2019. The excitement was high for this year's blade show, everyone in attendance was excited. Many bladesmiths sold out on the first day."
(Murray, Damascus folding knife with stag handle)


When New West KnifeWorks is shopping for custom knives we start where any buyer starts -with the look. The wares have gotta have curb appeal, they need to look good just sitting on a table. New West KnifeWorks in on a never ending quest for the most unique Damascus pattern or exceptional handle materials. We are also excited by new blade designs. So if we like what we see and the seller will permit it, we inspect the knives in hand and take a deep dive into the craftsmanship. On closer inspection our team looks at the the fit and finish of the handles, seams, bevels, plunge line, etch and finish technique and countless other details.  
(Deibert, Damascus 9" Chef Knife)


With more than 10,000 people in attendance and 900 exhibitors we had a lot of knives to inspect. Our team returned to the factory from BLADE 2022 feeling inspired and excited to share the treasures we brought home.