Announcing Our Glory Folder EDC Pocket Knives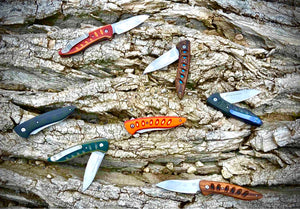 Best in Class.
This elegant EDC (Everyday carry) folder is a treasure to carry in your pocket every day but has the bones to be put to hard use when things get "western".   In Jackson Hole, you don't leave the house without your wallet, phone and a dependable knife. Whether you are cutting bailing twine, stripping wire or opening boxes from Amazon, the pocketknife is the essential tool for every man and woman.  It is a gift that will last a lifetime for holidays, graduations, clients and any occasion when you want to give something truly special. With 7 years in development, the Glory Folder is best in its class. Like all New West KnifeWorks products, The Glory Folder combines elegant design with state-of-the-art performance and functionality.  
Features
EDC Gentleman's Flipper folder
One-handed opening and closing and a clip are essentials for an everyday use pocketknife.  
CPM S35VN Blade
USA made CPM S35VN steel blade is the ultimate steel for edge holding, toughness and stain resistance. 59-60 RHC. Learn more about CPM S35VN.
Blade Shapes
The Drop Point Blade
The standard for general use.  Provides a strong tip for piercing, great for any cutting, whittling, small game and fish gutting and skinning and opening boxes.
Saddleback Blade
A unique, modern design that performs like a traditional drop point.  The "saddleback" provides a location to give added thumb pressure for certain cuts.
Flipper Style Opening
Flipper one-handed opening allows for quick and easy deployment.  It also allows you to open it slowly and deliberately when there are folks around who might be startled by a quickly exposed blade.  The hand skill of one-handed opening/closing of the knife takes only a few tries to accomplish. Developing true mastery of it is a fun practice and is found to be a relaxing pastime when you have a few idle moments. 
All titanium frame, clip and screws provide bombproof performance with minimal weight.
Titanium framelock-linerlock.  The Glory Folder linerlock is as thick as many framelocks.  Made from titanium, it provides an unbreakable lock when the knife is open.  The lock face is carbidized with tungsten carbide to provide long wear and a smooth lock up and closure.  
Titanium super strong clip will keep the knife in your pocket or waistband even if you are hanging upside down in the saddle or swimming through a Class 4 rapid.
Polished phosphorus impregnated bronze washer provides smooth opening and closing while allowing for the tightest tolerance in blade play. It also provides the least opening for grit and detritus to enter the pivot and offering the easiest construction for cleaning.
Each knife is hand assembled, tuned and finished for perfect performance and seamless fit and finish.
Handle Scales
Scales:  G10, Ironwood and carbon fiber scales are precision machined and hand fit and finished. 
Desert Ironwood offers unparalleled beauty and the elegance of a natural material.  Desert ironwood is the most durable natural material there is. The G10 under liner reinforces the ironwood to give added strength and resistance to chipping and cracking while providing a stylish accent.
G10 is the most durable material for pocketknife construction.  It will stand up to the hardest use. New West KnifeWorks custom colored laminates offer personal style to this ubiquitous tool.  The bright color choices also make it easy to find if it is dropped.
Carbon Fiber has the best strength to weight ratio.  Carbon fiber combined with the titanium frame makes this knife feel almost weightless in your hand.
Made by New West KnifeWorks in Victor, Idaho USA. 
Glory Folders are made, individually assembled and finely tuned in the New West factory in Victor, Idaho.  Each knife takes four hours of hand work to create a precision fit and finish.