American Made Chef Knives in Napa Valley
January 01, 2019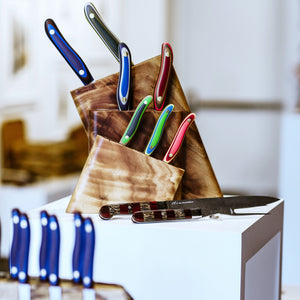 Shop the National Knife Day Sale!
Cooking is an art and a quality knife is the artist's brush. Designed and crafted in the Teton Mountains, New West KnifeWorks makes world class tools for the culinary artist. From the New York Times and Bloomberg, to Bon Appetit and Fine Cooking, top taste-makers appreciate the joy of cutlery that is "as beautiful as it is useful" (NYT).
Visit us on Main Street in St. Helena! Our 100% American-made knives are the ideal addition to your kitchen and make perfect gifts for friends near and far.
Address | 1380 Main Street, St. Helena, CA 94574
Phone | (707.244.5188
Hours | Mon-Fri 10am - 6pm, Sat - Sun 9:30am - 6pm
New West's Steak Knives have been featured in Food & Wine, WSJ, and can be found in top Napa Valley restaurants like Press, Archetype, and Goose & Gander among others in Jackson, WY, Park City, and Los Angeles. Shop Steak Knives
Stop in for a unique, hands-on shopping experience with our experienced Knife Concierges. What knives do I need?

Right on St. Helena Main Street, New West KnifeWorks is in the heart of Napa Valley.

Housed under the same roof, MTN MAN Toy Shop is our brother brand which features American-made sharp tools and toys, outdoor gear, and New West's line of one-of-a-kind hand forged Damascus for the avid outdoorsman and collector. Stop by and throw one of our made-in-the-rockies tool steel tomahawks! Learn More About MTN MAN Toy Shop.