The Making of a Modern Mountain Man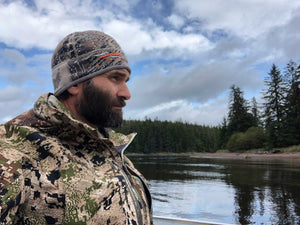 A cowboy hat and a flannel shirt does not a modern mountain man make. According to former Navy SEAL sniper, author, and Park City resident Jack Carr, the modern mountain man is two things above all else (and they have nothing to do with how many elk racks are on your wall): self-reliance and constant self-improvement.
As an avid sportsman and author, Carr has travelled the globe for both work and play, racking up a portfolio of adventures that most only dream of. He has hunted bear in Russia, researched Chinese influence in Mozambique, trained anti-poaching troops in South Africa, and stalked mountain lion in Utah. Most recently, he traveled to Alaska where he slept on a fishing trawler for two weeks, waking up every morning to hunt for bear. Carr saw plenty of bear as they fished for salmon in Alaska's rugged wilderness, but he didn't take any home: he adheres to a code of ethics that requires taking an animal only when "his time has come."
Although both his travels and his novels (Carr is the author of political thrillers True Believer, The Terminal List, and Savage Son) depicts a life of nonstop thrills, Carr is essentially a family man whose favorite hunting and fishing buddies are his wife and kids. "It's all about getting my kids away from their IPhones and into the wilderness," Carr explains."I want them to have an appreciation of where their food comes from. I want them to connect back to the land and to the earth."
On another recent adventure, Carr and his wife travelled to British Columbia and stayed at a floating lodge where they fished every day for salmon and halibut. Carr is a big proponent of farm (or field, or sea) to table eating, and uses New West Knives to prepare meals using fresh ingredients and the catch of the day. Check out Carr's favorite Halibut recipe at the end of the post, and hear what he has to say about self-reliance, knives, hunting, and what it means to be a mountain man. 
New West Knifeworks: How do you instill self-reliance in your kids?
Jack Carr: For us, it's all about getting outside. We backcountry ski, hike, hunt. It's hard to think of something better than that, being able to put down phones, sleep outside, be cold and know that it's ok, that it will pass. I want them to know their  limitations, too. I not only teach them to hunt, I teach them to dress an animal in the field, take it home, cook it properly. I also want them to be prepared, and to know their limitations, how to do first aid. Being prepared is essentially being aware of your surroundings and being able to operate efficiently in them.
How did you get into hunting and fishing originally?
I've always been drawn to the hunt.  My family owned firearms and shot but didn't hunt, so my first real hunt was in northeast Washington State for sniper sustainment training in the SEAL Teams back in 2000. Since then I've been very fortunate to have put in some serious time on the hunt. I'm a partner in a hunting operation in Lanai, Hawaii called Pineapple Brothers focused on axis deer and mouflon sheep. My daughter was naturally drawn to hunting at a very early age so we've spent many a day afield after deer and elk over the years. Hunting is something we can do together forever and helps instill the values we hold dear as a family.  
What do you look for in a good hunting knife?
One of the great things about blades is that everyone will have a different definition of a good hunting knife.  For me, the main thing is that I have to trust it.  That means it has to be able to take some abuse. It has to feel natural in my hand. It also can't be so special that I'm afraid to use it or even possibly lose it.  Family heirloom type knives and blades given to me under special circumstances stay at home.  I know a lot of people take those kinds of blades afield but I'd just feel so terrible if I lost one that I opt for blades I can replace.  My JH Hunter/Forager and the new Outfitter knives fit all those criteria. I've been using New West KnifeWorks  blades for years, so I know I can trust them. The new Outfitter blade feels so natural in my hand.  It's just asking to be put to work!  And, if for some reason I managed to lose it, I know my friends at New West KnifeWorks are busy forging another that can take its place.  And, to top it off, it's a beautiful blade.
What does it mean to be a modern day mountain man?
I guess I'll always feel like an aspiring mountain man as there are people out there with skills in the woods that far surpass mine.  I'm always learning, constantly adapting, and striving to improve my skills to go further into the backcountry.  I feel at home there.  I feel free. ■
To keep up with Jack Carr's adventures, follow him on Instagram or check out his website. If you like thrillers, read one of his novels!
Jack Carr's Favorite Roasted Halibut with Radicchio-Pancetta Sauce, Peas and Artichokes from 
Becky Selengut's "Good Fish"
Ingredients
1 lb. of halibut, skinned and cut into 4 equal portions
Salt and Freshly Ground Pepper
1 Tbsp high-heat vegetable oil (I used grapeseed oil)
1 Tbsp extra virgin olive oil
2 oz pancetta, lightly smoked bacon, or prosciutto, cut into medium dice (I used home made bacon)
1/2 cup sliced shallots
4 oz radicchio, chopped into bite sized pieces, about 3 cups
1 tsp honey
1 Tbsp white wine vinegar
1 Tbsp white wine or dry vermouth
1 cup fish stock, clam juice or vegetable broth (I used a light, home made chicken stock because that's all I had)
1/2 cup frozen (thawed), canned or jarred artichoke hearts, quartered
1/2 cup fresh or frozen (thawed) peas
1/2 lemon
Directions
Preheat the oven to 350 degrees.

Lightly season the halibut fillets with salt and pepper. In a large ovenproof skillet over high heat, add the vegetable oil and sear the fillets for 3 minutes, or until they are browned on one side.

Transfer the fish to a plate, and turn the heat down to medium high. Add the olive oil, pancetta and shallots and cook until the pancetta starts to crisp, 5 to 6 minutes.

Add the radicchio and honey and cook for another 3 to 4 minutes, until the radicchio starts to wilt and caramelizes. Add the white wine vinegar, white wine, and stock, stirring to loosen any bits clinging to the skillet.

Add the artichokes and peas, stir, then nestle the halibut pieces back in the pan, browned side up.

Place the pan in the oven and cook for 3 to 4 minutes, or until the halibut is done.

Finish with a squeeze of lemon juice over the top. Serve each person a piece of fish and portion of vegetables, ladling the broth over the top of the fish.